Building WordPress landing pages have long been a problem for online businesses.  Until landing page builders hit the market, the problem for online businesses was three-fold:
It cost a lot of money to hire web developers to make the landing pages and sales funnels.
It was difficult to split test landing pages.
It was difficult to integrate email marketing software and payment processors.
Clickfunnels
In about 2013, Leadpages launched into the market. It was very well received. However, the issue for many was the lack of its integration into a payment provider to take payments on the internet. Leadpages to this day is more of a landing page software for those who want to only capture email addresses.
People that I spoke to did not like that you could not customize Leadpages. I thought this
In about 2014, Clickfunnels launched onto the market. It put the process of building landing pages and payment pages into the hands of tens of thousands of entrepreneurs worldwide.
People loved Clickfunnels (and they still do). However, IMHO, it was due to a lot of bravado around the software and the means of selling: through sales funnels.
What is the difference between a Sales Funnel and a Landing Page?
A sales funnel is merely a number of web pages that visitors are guided through after they opt-in (or sign-up) for a free offer. Whereas, a landing page is the web page that visitors are directed to after clicking an online ad.
A sales funnel may contain one or more of the following web pages:
Landing page (often a 'sign-up for webinar', or 'download a free report' web page)
Video sales letter page
Thank you page
Payment Page
One-time offer (Upsell) page
Why is this important?
It is important because what people love about Clickfunnels and all of the other sales funnel builders, that it can put the web pages together, in the sales funnel sequence.
What about WordPress Landing Pages?
WordPress landing pages have been difficult to build. In my experience, the hardest part is to add the form in the top-right of the web page, as the experts tell you to. Often the forms that are generated through email marketing platforms such as Aweber and ActiveCampaign are (very surprisingly) not very professional. There is no excuse for their form builders. I love ActiveCampaign, but this is one of their downfalls.
Clickfunnels Alternative
There is a new WordPress landing page plugin that also creates great sales funnels and checkout payment pages. It is called WP Funnels.  This new software allows you to make WordPress landing pages easier than ever before.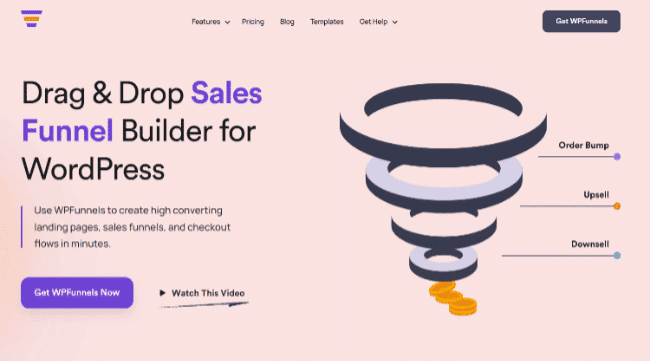 The best part? WP Funnels has a drag and drop canvas that allows you to construct sales funnels, including sales pages, webinar pages, thank you pages and checkout payment pages.
WP Funnels also has split testing, which used to be another drawback of building WordPress landing pages.  The split testing feature will allow you to optimize your conversions, just like you would in Clickfunnels.
The downside of WP Funnels is that it doesn't integrate into any membership software or membership plugins.
If you are looking for a Clickfunnels alternative, and you don't require membership functionality, then look no further than WP Funnels.