How to Start an Online Business, Step-by-Step
This free guide will walk you through the steps to start your online business. I cover the digital requirements including website, web hosting, and email software. I will also discuss the business requirements, such as market research, writing a business plan and the legal requirements of starting an online business.
Why Start an Online Business?
By 2040, 95% of purchases will be facilitated by e-commerce, according to Nasdaq. At some point, you too might have been allured by how easy it seemingly is to make money by starting an online business. All you seem to need (initially) is a computer that is hooked up to the internet. But as millions of entrepreneurs worldwide have found out, starting a business of any kind can be challenging at times.  The other side of the coin is that running an online business can be fun and exciting.  It allows you to generate an income – and that gives you options in life. The truth is nobody can tell you why you should start an online business.  You have to work that out for yourself and remind yourself of that 'why' as you go through challenging stages. Stating your business online is significantly less expensive than setting up a brick-and-mortar store. However, you still need to pay for some essentials that help you to grow your business over time.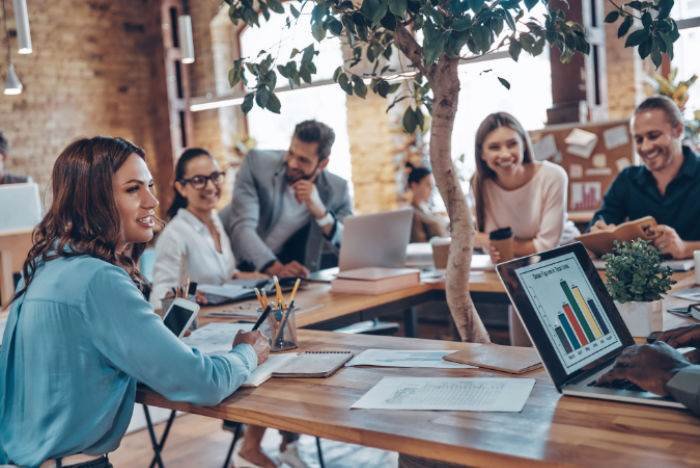 1. Market Research
Use sites such as Google Trends and Trend Hunter to research your preferred market and see if there is a demand for your digital product/ service. Further, you can browse the bestseller section of common e-commerce sites, including Amazon and Alibaba to know what people are purchasing online. With competitive intelligence software platforms, such as Owler, you can keep close track of your competitors. Meanwhile, if you are looking to provide a service, such as content marketing, accounting, video editing, etc., go through freelance job portals to identify the gaps in the services of top earners in each category.
2. Choose a Product or Service to Sell
To figure out the best possible online business idea for you, answer the following questions. They will give you a good insight into what digital business you will be most successful at.
What problem do people ask you for assistance with?
What existing product do you wish will improve?
What brands do you follow on social media, and why do you like them?
From this exercise, some ideas are bound to stick out. Ideally, pick a digital business idea that doesn't require you to learn everything from scratch. Moreover, if you are planning to sell a product, ensure that you have access to the companies that manufacture it or its components.
3. Make a Business Plan 
Now that you have selected your digital business idea, it is time to create a business plan. The business plan will help in the day-to-day operation of your business and also in the securing of funds if needed. Focus on the following while developing a business plan:
A name and logo that differentiates your company from other brands and reflects your professional values
A marketing strategy that takes everything into account, including sales channels, target market, pricing models, promotional methods, and competitors.
A well-thought-out financial plan covering your online business' budget, projections, estimated expenses, and financial goals for upcoming quarters.
An operations plan that includes information about the legal requirements for starting a company, inventory management, and other facilities. If you have a product-based business, make sure your operations plan includes how you will produce and deliver the products.
4. Business Structuring and Legal Registration
It is vital that you register your business as per the regional and industry requirements. If you are a sole entrepreneur, you can go with a sole proprietorship/ sole trader registration because it is a cheaper option. However, this structure isn't very flexible for growth-minded online businesses.
You can also set up your online business as a partnership or a trust, as it comes with privacy and tax-saving benefits. Since setting up an online business can be risky, we recommend that you set up your business structure in a way that limits your personal liability and helps in tax planning.
5. Domain name
A domain name/ virtual business location is a necessity if you want customers to find you online. Ensure that you choose a good web hosting provider that will provide enough storage space for your business files. You can get web hosting for free, but this setup can often slow down your website, as you will end up sharing server space with other websites.
To avoid this situation, you require a virtual private server (VPS), which is a dedicated server for your site. Further, you need a website builder, such as WordPress that allows you to customize your site and make it stand out from the competition.
6. Mailing list and newsletter
To increase your sales and site visitors, it is crucial to get your website visitors to provide their mail ids and sign up for a newsletter. This allows you to manage leads effectively and have a stronger connection with your audience.
When you have a good newsletter and a mailing list full of people, you can engage your audience with exclusive promos, deals, products, and services. To manage your email marketing needs, there are several great apps, including Aweber and GetResponse.
7. Payment processing and shopping cart
Customers need to seamlessly checkout and make payments. For that, you need to provide them with an easy-to-use e-commerce shopping cart, such as a PayPal shopping cart. The cart also allows your customers to easily pay through a variety of payment methods that they find convenient.
The most popular online payment services are PayPal and Google Checkout. You can even set up your own internet merchant account, which will cost you a setup fee, monthly charges, and per-transaction fees as well.
8. Build Your Website
When you register a domain name, keep the name short and unambiguous. You can even use your name and the type of business you are running. For instance, you can use a name, like amyseo.com, johnconsulting.com, etc. When it comes to the extension, the top-level domain .com pricing starts at $8.99/year. Meanwhile, if you are looking for a cost-effective option, you can go with something, like .online that starts at $0.99/year. Apart from the domain, you also need a platform to build your site.
WordPress could be a great option for you. Our website here at Startup and Scale is built on WordPress and uses the Newapaper theme by TagDiv. Although there is a learning curve for beginners, WordPress is also quite user-friendly and comes with a multitude of plugins that will let you personalize your site.
While building your site, remember to create all the essential pages, such as About Us, Home Page, Contact, Blog, Terms and Conditions, and Privacy Policy. If you plan to run an e-commerce site, insert the products with high-quality photos and descriptions, enable payment processing, and make the checkout process simple. Notably, you need to prioritize user experience to ensure your site retains visitors.
9. Promote your Online Business
There are a variety of ways to promote your online business. Crucially, you need to be aware of SEO best practices, such as using the right keywords, optimizing site speed, and keeping your network secure. You also have the option of promoting your business via social media channels, running a Google ad campaign, email marketing, and affiliate/influencer marketing as well.
You can also use the media to promote your business online, as many of the journalists publish their stories on their blogs, news websites, and on Youtube.  If you would like to explore getting publicity for your business check out out article: How to Get FREE Publicity.